There's always something going on at the Rotary Club of Gilroy! Check below for the latest news about upcoming noon speakers as well as fundraisers, volunteer opportunities, and other special events that you won't want to miss.
Annual Rotary Flower Sale 2017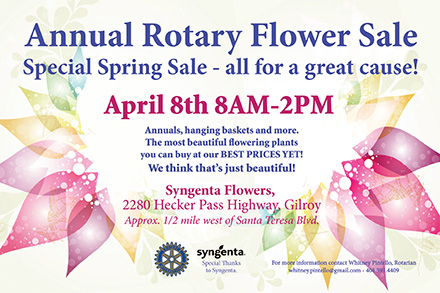 Gilroy Rotary offers up to $50,500 in scholarships
Gilroy Rotary offers up to $50,500 in scholarships The Gilroy Rotary Club Scholarships and Awards Program will be offering up to $50,500 in college scholarships to qualified high school seniors graduating in 2017 and entering their first year of college in the fall of 2017, along with Gavilan or Hartnell College graduates who are transferring to a four-year college in the fall of 2017. Click here to download the application.
June 30, 2014: Governor's Project: Glen View School
This year our new District Governor (Ed Jellen) Project is to donate school supplies directly to Glen View School 3rd grade. To collect the donations for this project, a backpack will be passed around during the club's meetings on July 8th and July 15th. We are asking all members to contribute to our new Governor's project.
June 17, 2014: Gilroy Rotary and City of Gilroy Host Annual Senior Center BBQ
A quarter-century partnership between Gilroy Rotary Club and the City of Gilroy Parks and Recreation department in support of senior citizens recently hosted its annual Senior Center Barbecue at Christmas Hill Park.


Left: Rotarians Tim Day and Kelly Ramirez,    Right: BBQ Committee.      Photos by Michael Hawk
One-hundred-sixty Gilroy Senior Center regulars enjoyed a BBQ chicken lunch, including garlic bread, beans, salad and dessert. Attendees picked up their free tickets at the 6th and Rosanna Streets Senior Center.
According to Rotary Senior BBQ chair Rick Patereau, the afternoon provided an opportunity for senior citizens to socialize, enjoy an al fresco meal, play cards, Bingo, board games, and dance.
June, 2014: Gilroy Rotary Club President Finishes Successful Term
Gilroy Rotary's Hamdy Abbass will complete his year as president at the end of June 2014 , having added several noteworthy events to the 88-year-old club's history of service above self. On July 1, 2014, Joel Goldsmith will become Gilroy Rotary Club President; Peter Katavich will serve as Vice President.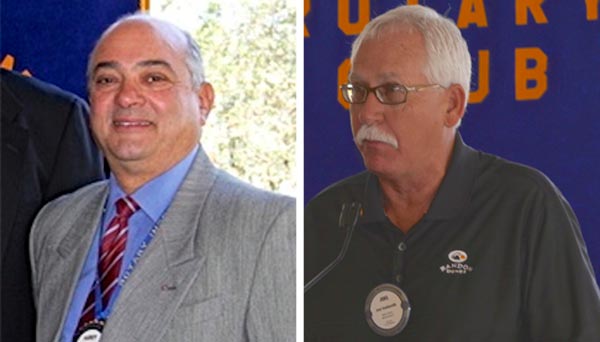 Left: Hamdy Abbass,   Right: Joel Goldsmith
Following the Rotary International's 2013-2014 theme, "Engage Rotary Change Lives", under President Hamdy's leadership $100,000.00 was raised in two events: the Wine Pavilion at the Gilroy Garlic Festival and the Flower Sale.
Proceeds from these events funded Gilroy Rotary's community grants in January to 44 groups, totaling over $40,000.00. In May, 18 students from Gilroy High School, Christopher High School, Valley Christian High School, and Gavilan College received $62,000.00 in scholarships from Gilroy Rotary Club, in collaboration with Syngenta Flowers, the Goldsmith Family and Don Christopher.
May 20, 2014: $62,000 in Scholarships Awarded Locally by Gilroy Rotary Club
$62,000 was awarded to 18 local Gilroy Rotary Club scholarship recipients last week at Gilroy High School, Christopher High School, Valley Christian High School, and Gavilan Community College. Rotary President Hamdy Abbass, assisted by Rotarian Joel Goldsmith and Syngenta Seeds' Mark Wilson presented the awards in ceremonies May 19 and 20 at the various schools.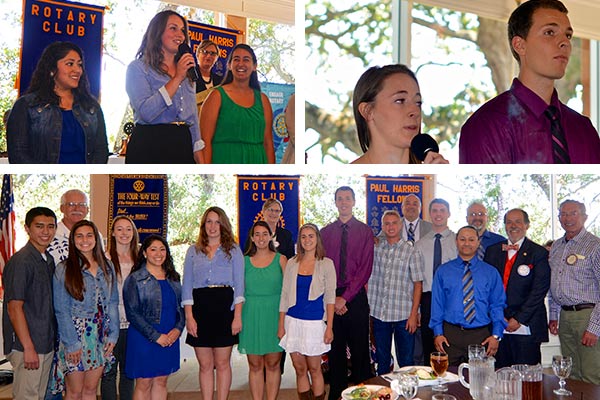 All of the recipients have been invited to the June 3 Rotary Club meeting to be recognized, according to committee chair Tammy Brownlow. Since the club's scholarship program began in 1999, $119,700 has been awarded.
Scholarship applications were announced via local high schools and community colleges, and in press releases sent to area media. Winners were selected from applicants to the online public scholarship website by Rotary Scholarship Committee members Tammy Brownlow, Tim Day, Traci Dalke, Joel Goldsmith, Noah Lewis, Rachel Perez, Kathleen Rose, Paul Wheeler, and Kai Lai.
The overall purpose of the Gilroy Rotary Club Scholarship awards to recognize and support students' academic achievement and community service.
April 19, 2014: Annual Flower Sale
Don't miss the Rotary Flower Sale at Syngenta Flowers, 2280 Hecker Pass Highway. Annuals, hanging baskets and more. Proceeds benefit local charities.

February 1, 2014: Speech Contest
Gilroy Rotary Club President Hamdy Abbass and Speech Contest Chair Noah Lewis congratulate winner Sinead Jernigan. Sinead is a senior at Gilroy High School, was coached by teacher Ethan Stocks, and spoke on this year's contest topic: "Engage Rotary, Change Lives". Gilroy Rotary Club has sponsored the local contest since 1998. Christopher High School and Gilroy High School each sponsored two entrants. Sinead will move on to the next level of competition, which will be in Gilroy on February 25.
Each participant received a certificate and a cash prize, 1st-$100, 2nd-$50 3rd & 4th- $25. Rotarian David Cox matched all these prizes. Congratulations to all four students and their coaches:
1st Place: Sinead Jernigan, senior, Gilroy High School (coach: Ethan Stocks)
2nd Place: Kaitlyn Lombardo, sophomore, Christopher High School
3rd Place: Mariah Carpenter, freshman, Gilroy High School
4th Place: Bryanna Chavez, senior, Christopher High School
January 28, 2014: Charitable Giving Program
Gilroy Rotary Club's Charitable Giving program will be awarding over $40,000 to local organizations on Tuesday, January 28. Awards and grants are available through an application process annually, and are supported by Rotary Club's fundraising through events such as the spring Flower Sale and the Wine Tent at the Gilroy Garlic Festival.
Every year the Charitable Giving Committee, led by Jay Baksa and the Gilroy Rotary Endowment, Inc., led by Bob Wagner, coordinate the Rotary Club's Community Grants Program. The program makes awards to youth, seniors, and/or education programs in the community. In the last 15 years, the Gilroy Rotary Club's Community Grants Program has given over $500,000 to these community groups.