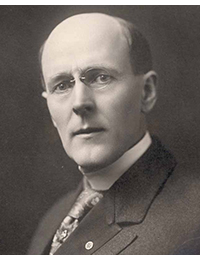 Paul P. Harris was born on April 9, 1868, in Racine, Wisconsin. A University of Vermont graduate, he later received his L.L.B. degree from the University of Iowa.

He worked as a newspaper reporter, a business college teacher, a stock company actor, a cowboy, and as a salesman for a marble and granite concern in the United States and Europe. In his travels he spent nine months in California, including a raisin-packing stint in Fresno. In 1896, Paul Harris opened his law practice in Chicago.

Nine years later, on February 23, 1905, he and three other gentlemen founded Rotary, the original service club. The name "Rotary" was selected because the meeting place rotated from office to office of the members. The following year, 1906, a buggy wheel emblem was adopted. The current emblem, with 24 cogs, 6 spokes, and a keyway, was approved in 1924.

The West played an important part in the development and growth of Rotary. The second club, San Francisco, was founded in 1908. Oakland was the third club, followed by Seattle, Los Angeles, New York City, and Boston in 1909. The next year, 1910, the Winnipeg, Canada Club, was formed, and Rotary became international. In 1911, Dublin, London and Belfast were chartered, and in 1912, the word International was added.

In 1911, "Service above Self" and "He profits most who serves best" adopted as Rotary mottoes. The 4-Way Test was first publicized in 1933 and presented to Rotary in 1954 by the R.I. President, Herbert J. Taylor, as a gift from his company.

Rotary International is run by a President, President-Elect, and a Board of 16 Directors. For administrative purposes, Rotary Clubs are placed in a District run by a District Governor, who serves for one year. Our District 5170 has 58 clubs and over 4,000 members Today there are over 27,850 Rotary Clubs with almost 1.2 million members in 188 countries and geographical regions throughout the world.
WEEKLY MEETINGS
Tuesdays at 12:15 pm
Gilroy Elks Lodge
2765 Hecker Pass Highway
Gilroy, CA 95020
Map
SIGN UP FOR
NEWS & EVENTS