NEWS & EVENTS
Camp RYLA Applications Now Available for Summer 2016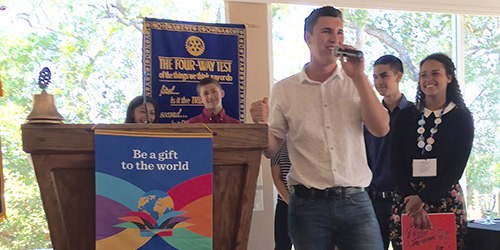 The Rotary Club of Gilroy will be sponsoring six local students to attend Camp RYLA this summer! Please click here for your Camp RYLA application
Gilroy Rotary Club Grant Applications Due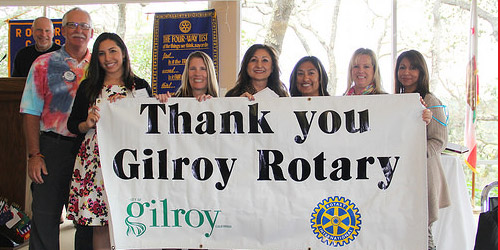 Local charitable and educational groups are encouraged to apply for Gilroy Rotary Club's annual Community Grants from now through Friday, November 13, 2015. Last year, 58 area individual applicants and non-profits received over $50,000 in Gilroy Community Grant awards. Over $600,000 has been awarded since the program began in 1997.

While the grants may not be used for scholarships, salaries, or operational expenses, non-profits and charities that serve seniors, youth, and education in the Gilroy community are eligible to apply. Grant funds must be used locally; recipients must be an organization, not an individual, that is clearly philanthropic or educational in nature; and Gilroy Rotary must see a specific end result or program/project; the contribution must reach a large segment of the Gilroy community.
Gilroy Rotary Offers Up To $52,500 in Scholarships
The Gilroy Rotary Club Scholarships and Awards Program will be offering up to $52,500 in college scholarships to qualified high school seniors graduating in 2015 and entering their first year of college in the fall of 2015, along with Gavilan or Hartnell College graduates who are transferring to a four-year college in the fall of 2015.
Gilroy Rotary Club President Finishes Successful Term
Gilroy Rotary's Hamdy Abbass will complete his year as president at the end of June 2014 , having added several noteworthy events to the 88-year-old club's history of service above self. On July 1, 2014, Joel Goldsmith will become Gilroy Rotary Club President; Peter Katavich will serve as Vice President.
Gilroy Rotary and City of Gilroy Host Annual Senior Center BBQ
A quarter-century partnership between Gilroy Rotary Club and the City of Gilroy Parks and Recreation department in support of senior citizens recently hosted its annual Senior Center Barbecue at Christmas Hill Park.
One-hundred-sixty Gilroy Senior Center regulars enjoyed a BBQ chicken lunch, including garlic bread, beans, salad and dessert. Attendees picked up their free tickets at the 6th and Rosanna Streets Senior Center.
$62,000 in Scholarships Awarded Locally


$62,000 was awarded to 18 local Gilroy Rotary Club scholarship recipients last week at Gilroy High School, Christopher High School, Valley Christian High School, and Gavilan Community College. Rotary President Hamdy Abbass, assisted by Rotarian Joel Goldsmith and Syngenta Seeds' Mark Wilson presented the awards in ceremonies May 19 and 20 at the various schools.

World Polio Day
October 24, 2013 is World Polio Day. The Gilroy Rotary Club is one of over 32,000 Rotary clubs in over 200 countries who have committed to eradicating polio worldwide. To date, Rotary has contributed over $1.2 billion and countless volunteer hours to help immunize more than two billion children against polio in 122 countries. Currently, Rotary is working to raise $35 million per year through 2018, which will be matched 2 to 1 by the Bill & Melinda Gates Foundation. Find out how you can get involved and support Gliroy Rotary in our continued efforts to eradicate this disease.
SIGN UP FOR
NEWS & EVENTS
QUICK LINKS
UPCOMING SPEAKERS
Jan 05, 2016: All
"Social Time - Catch up after the Holidays"

Jan 12, 2016: Interact Clubs
"International Project on Human Trafficing"

Jan 19, 2016: Chief Mike Sellers, Santa Clara Police Department
"Super Bowl Security"

Jan 26, 2016: Jay Baksa
"Charitable Giving Program"

Feb 02, 2016: Local High Schhol Students - Noah Lewis
"Speech Contest"

Feb 09, 2016: Jane Howard - Susan Valenta - Tammy Brownlow
"Valentine's Day Extravaganza"

Feb 16, 2016: Mary McClelland
"Gilroy FFA"

Feb 23, 2016: Seth Rae
"Cal Star Program"

Mar 01, 2016: Jill Fortino
"4 Way Test Readings"

Mar 08, 2016: Barb Granter
"Gilroy Gardens Lumination"

Mar 15, 2016: Officer Chris Miceli - California Highway Patrol
"CHP Volunteer Program"

Mar 22, 2016: High School Students
"Regional Speech Contest"

Mar 29, 2016: Mary Pat Michielssen & Ed Seledon
"Visit to Cuba"