NEWS & EVENTS
Gilroy Rotary offers up to $50,500 in scholarships
The Gilroy Rotary Club Scholarships and Awards Program will be offering up to $50,500 in college scholarships to qualified high school seniors graduating in 2016 and entering their first year of college in the fall of 2016, along with Gavilan or Hartnell College graduates who are transferring to a four-year college in the fall of 2016. Click here for more details.
Camp RYLA Applications Now Available for Summer 2016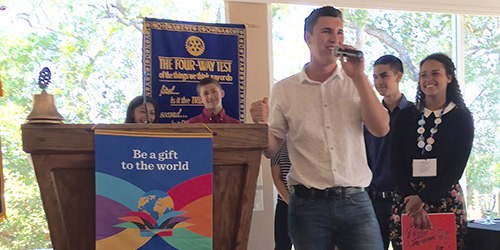 The Rotary Club of Gilroy will be sponsoring six local students to attend Camp RYLA this summer! Please click here for your Camp RYLA application
SIGN UP FOR
NEWS & EVENTS
QUICK LINKS
UPCOMING SPEAKERS
Nov 22, 2016: Gilroy Rotary is DARK this week
NO MEETING THIS WEEK - HAPPY THANKSGIVING!

Nov 29, 2016: Deanna Franklin
Interact

Dec 06, 2016: Marco Renella
Christopher Ranch 60th Anniversary

Dec 13, 2016: Marco Renella
Gilroy High School Choral Ensemble Musical Presentation

Dec 20, 2016: HAPPY HOLIDAYS!
NO MEETING TODAY

Dec 27, 2016: HAPPY HOLIDAYS!
NO MEETING TODAY

Jan 10, 2017: Robert Minkin, introduced by Jane Howard
The future of St Louise Hospital