NEWS & EVENTS
Flower Sale is April 25th!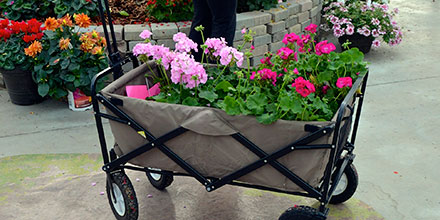 The annual Gilroy Rotary Flower Sale is set for Apr 25th at Syngenta Flowers. 2280 Hecker Pass Hwy Gilroy. 8AM-2PM. Do great things for our community and get those yards in shape for spring at the same time! Get there early for the best selection!
Gilroy Rotary Offers Up To $52,500 in Scholarships
The Gilroy Rotary Club Scholarships and Awards Program will be offering up to $52,500 in college scholarships to qualified high school seniors graduating in 2015 and entering their first year of college in the fall of 2015, along with Gavilan or Hartnell College graduates who are transferring to a four-year college in the fall of 2015.
2015 Charitable Giving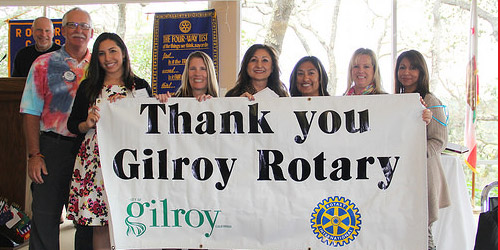 The Rotary Club of Gilroy was excited to award over $50,000 to 58 different programs this year! Since 1997, Gilroy Rotary has given out Over $600,000 to over 130 different community organizations. These funds are supported by a club endowment and from proceeds from the Wine Sales at the Gilroy Garlic Festival, the annual Rotary Syngenta Flower Sale, and this year, a generous donation from Don Christopher, a 50-year Gilroy Rotarian.
Gilroy Rotary Club Grant Applications Due
Local charitable and educational groups are encouraged to apply for Gilroy Rotary Club's annual Community Grants from now through Friday, November 14, 2014. Last year, 44 area individual applicants and non-profits received over $40,000 in Gilroy Community Grant awards. Over $500,000 has been awarded since the program began in 1998.
While the grants may not be used for scholarships, salaries, or operational expenses, non-profits and charities that serve seniors, youth, and education in the Gilroy community are eligible to apply. Grant funds must be used locally; recipients must be an organization, not an individual, that is clearly philanthropic or educational in nature; and Gilroy Rotary must see a specific end result or program/project; the contribution must reach a large segment of the Gilroy community.
Gilroy Rotary Club President Finishes Successful Term
Gilroy Rotary's Hamdy Abbass will complete his year as president at the end of June 2014 , having added several noteworthy events to the 88-year-old club's history of service above self. On July 1, 2014, Joel Goldsmith will become Gilroy Rotary Club President; Peter Katavich will serve as Vice President.
Gilroy Rotary and City of Gilroy Host Annual Senior Center BBQ
A quarter-century partnership between Gilroy Rotary Club and the City of Gilroy Parks and Recreation department in support of senior citizens recently hosted its annual Senior Center Barbecue at Christmas Hill Park.
One-hundred-sixty Gilroy Senior Center regulars enjoyed a BBQ chicken lunch, including garlic bread, beans, salad and dessert. Attendees picked up their free tickets at the 6th and Rosanna Streets Senior Center.
$62,000 in Scholarships Awarded Locally


$62,000 was awarded to 18 local Gilroy Rotary Club scholarship recipients last week at Gilroy High School, Christopher High School, Valley Christian High School, and Gavilan Community College. Rotary President Hamdy Abbass, assisted by Rotarian Joel Goldsmith and Syngenta Seeds' Mark Wilson presented the awards in ceremonies May 19 and 20 at the various schools.

World Polio Day
October 24, 2013 is World Polio Day. The Gilroy Rotary Club is one of over 32,000 Rotary clubs in over 200 countries who have committed to eradicating polio worldwide. To date, Rotary has contributed over $1.2 billion and countless volunteer hours to help immunize more than two billion children against polio in 122 countries. Currently, Rotary is working to raise $35 million per year through 2018, which will be matched 2 to 1 by the Bill & Melinda Gates Foundation. Find out how you can get involved and support Gliroy Rotary in our continued efforts to eradicate this disease.
2014 Charitable Giving Program
Check out the highlights from this year's Charitable Giving Program held on January 28th.
SIGN UP FOR
NEWS & EVENTS
QUICK LINKS
UPCOMING SPEAKERS
Jul 14, 2015: Cindy Bogard O'Gorman
"Los Altos Rotary Club Aid's International Project"

Jul 21, 2015: Martha McNeil
"Dream Power Horsemanship"

Jul 28, 2015: Dark
"Garlic Decompression"

Aug 04, 2015: Supervisor Mike Wasserman
"Community Transition Group"

Aug 11, 2015: Our RYLA Students
"The RYLA experience"

Aug 18, 2015: Gene Guglielmo
"Guglielmo Winery 90th Anniversary"

Aug 25, 2015: District Governor Susan Valenta
"Our Rotary Year in District 5170"

Sep 01, 2015: Chris Gerrity
"New Chip in your Credit Cards"

Sep 08, 2015: Various Red Badge Members
"New Member Bio's"

Sep 15, 2015: Mayor Don Gage
"General Plan Update and City Budget Report"

Sep 22, 2015: Jeff Martin
"Olive Growing Industry"

Sep 29, 2015: Peter Katavich & the Club Committee Chairs
"Club Assembly"